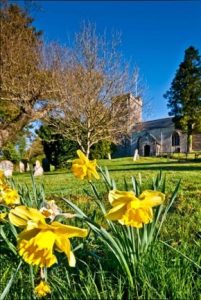 A Brief History of St Nicholas' Church, Brushford
Although St Nicholas' Church underwent 18th and 19th century restoration, it retains much medieval stonework and is one of the most interesting churches in the Exmoor area.
The oldest part of the church appears to be the south west wall of the nave, which is probably 13th Century. Its two windows were added around 1520. The bottom part of the tower is mid-15th Century but the top half was rebuilt in 1742. The north wall of the nave was rebuilt in 1723 and the chancel in 1872.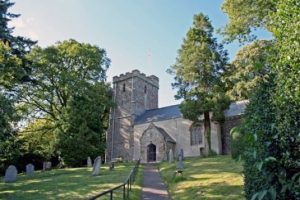 One of the church's notable features is its beautiful chancel screen, in Perpendicular style and dating from about 1500. Amongst other features is the Norman Font, made of Purbeck marble. This is square, with arches carved on each side. A group of pews in the Lutyens chapel date from Tudor times. There is also a hollowed-out chest and the village stocks are exhibited in the porch. In the south chancel window is some stained glass depicting the Virgin Mary. It is Renaissance French and was presented in 1925 as a memorial to Evelina, Countess of Carnarvon.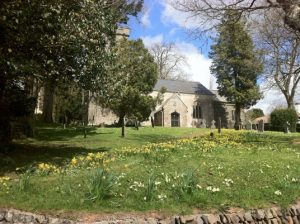 The church has two well-known features. The first is the huge oak tree in the front of the churchyard. This is one of the oldest trees in the Exmoor area and was spoken of in Elizabethan times as 'the old oak'. For many years it spread much wider, with its long horizontal branches supported by wooden props.
The second feature is the north chapel, erected in 1926 as a memorial to The Honourable Aubrey Herbert. The very simple chapel has a cross- shaped window and was designed by Sir Edward Lutyens, a friend of the Herbert family. Aubrey's effigy is by Cecil Howard and above it hangs his sword. He was a well-known MP, diplomat and adventurer who was twice offered the throne of Albania. He was a friend of John Buchan, who used his character as the hero of his novel Greenmantle.
The Church Today
St Nicholas Church
is in the Deanery of Exmoor and the Diocese of Bath and Wells.
Our Bishop is Rt Revd Peter Hancock,
assisted by Ruth, Bishop of Taunton
Rector
The Reverend Andrew Thomas,
The Vicarage,
High Street,
Dulverton
TA22 9EW
Tel: 01398 323018